U.S. Health Works
MEDICAL GROUP
Seattle Northgate urgent care center
836 N.E. Northgate Way
Seattle, WA 98125
Office 206-784-0737 Fax 206-784-0369
Located off the I-5, near the Northgate Mall
and next to Big 5 in the Northgate Village Plaza.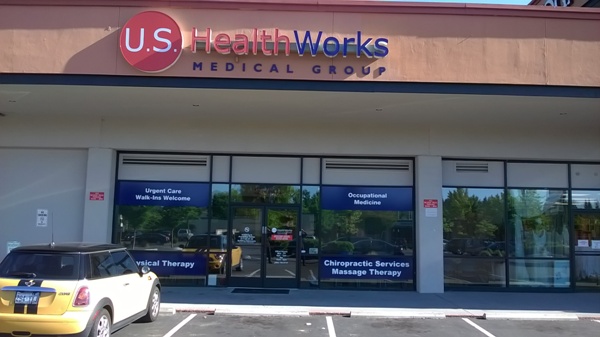 Very courteous and professional!
I was treated with absolute respect by every member of there staff.

So much nicer than
waiting at a hospital ER!
The place is fully staffed and equipped
to handle your medical needs.
Services Offered:
Urgent Care, Occupational Medicine,
Therapy and Wellness Services,
Medical Surveillance Management
Physical Therapy,
Chiropractic Services, Massage Therapy

(not all services available at all centers,
contact your local
U.S. Health Works to confirm availability)
Hours:

Work Injury Department:
Monday - Friday
8:00am - 7:00pm
Saturday 10:00am - 4:00pm
Physical Examinations:
Monday - Friday
8:00am - 7:00pm
Saturday 10:00am - 4:00pm
Urgent Care:
Monday - Friday
8:00am - 7:00pm
Saturday 10:00am - 4:00pm

Physical Therapy Department:
By Appointment, Please Call
Monday - Thursday

Urgent Care - Low-cost self-Pay option:
Basic Visit: $135
Comprehensive Visit: $184

CLICK HERE
to compare Basic & Comprehensive
services & get DISCOUNT COUPON
(Most major insurance also accepted)
"Walk-ins welcome!"
Note: Additional charges may apply for services
or materials related to your visit, including lab tests,
medications, vaccinations, supplies & x-rays.

Prices apply only to clinic listed on this page
and are subject to change without notice.

In addition, not all centers
treat patients age 12 and under,
Please call the center beforehand to confirm.