JR'S The HIDEAWAY Grill
is a very friendly & popular place!

The service is always good & the Beer is Cold!
And that's what they strive for at JR's HIDEAWAY GRILL
To have a friendly place for all to come to, locals, out of Towner's,
BIKERS, sports enthusiast, music lovers, and people just passing through.
Hood Canal is a beautiful place!
That's what we look for in a real Biker Friendly Bar
!
They support a lot of Motorcycle events and functions year round!
The Hideaway Grill, also has Live entertainment on weekends.
Check out there Entertainment Schedule Click Here

Stop by the next time you go to Belfair you will not be Disappointed!

Lot's of Free Parking,
PULL TABS - POOL TABLES - WIDE SCREENS & More
www.hideaway-jrs.com
Find Them on FACEBOOK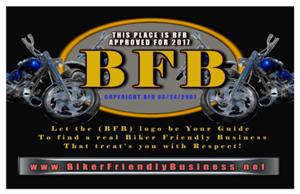 2017 BFB 5x7 Window Logo Pending!
Recommended By: Dragoni