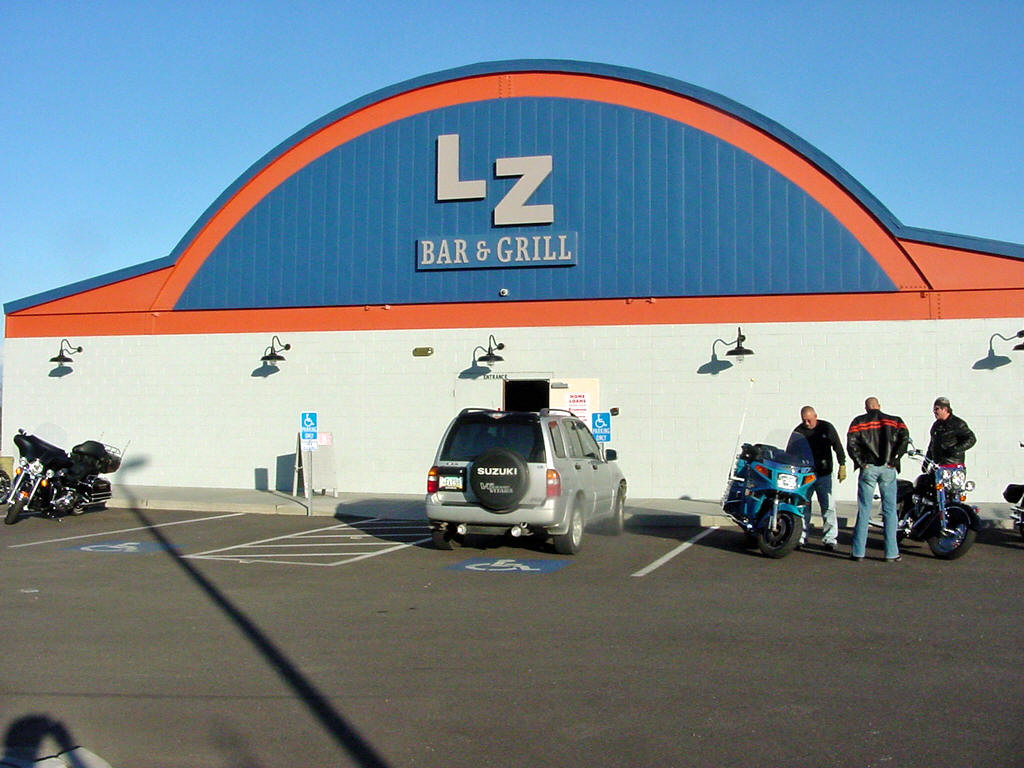 The LZ Bar and Grill as you can see has the the shape of a Hangar.
This new building is located off Gila Ridge Road on Harley Ave.
Next to: Bobby's Territorial Harley-Davidson
The Bar Owners are Bill and Evelyn Malo and Katie Paulson.

Bill Malo, was a helicopter pilot in Vietnam,
Bill displays his aviation collection in the bar and grill - hence the hangar shape.
The bar opened up on April 14, 2007 for business.
They have dart boards, pool tables, and 6 HD flat screen TV's
The bar Offers live bands on weekends.
Walking into the LZ Bar and Grill is like entering a Military Museum.
That's because that is exactly what it is. The Owner Bill Malo and members of his
family started the restaurant following a search for a place to display his
aviation-themed collection of military memorabilia.

Bill is proud of his stuff and the history it represents and feels that it should be seen.
Some of it is very personal too. One mannequin displays the flight uniform that
Bill Malo wore 1968-69 during his first tour as a helicopter pilot in Vietnam.
Framed photographs of helicopter scenes in Vietnam bear the signatures of
Bill Malo's other unit members. And the patches he wore form another display.
This Write up was from (Shawn a.k.a. MSHOG)
Edited & Posted by Dragoni 12/12/07

L Z Bar & Grill
2175 Harley Drive
Yuma, AZ 85365
Phone Number 928-726-3077
Come on down and enjoy our "House" Band, The Blues Deluex.
Also we have The Blues Percussion, 340, Tommy and the Drifters,
Highway 61, Beg2differ, Cougar, Chuckwalla Rhythm Kings!
They are open daily from 10am-2am
The grill will closes every night at 9pm


They are a non-smoking bar but they have a large patio with a captivating view.

We think a place located on Harley Drive, should be on (BFB)!

I think you will agree they are a very BikerFriendlyBar.
No Web site as Yet: Maybe it is coming soon.

"Give Support, Where Support is Given!"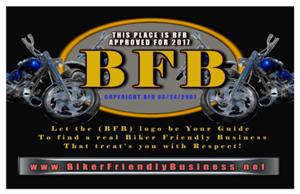 2017 BFB 5x7 Window Logo pending!
Recommended By: Dragoni
Stop by Tell them: Terry & Dutch Sent you!
2175 Harley Drive
Yuma, AZ 85365
Annual Bike Run

The Spinal Cord Run
Sign in @ L Z's 9-11am.
$ 20.00 per bike
All proceeds to benefit the Spinal Cord Society
For More Info Call # 928-726-3077