The HIDEAWAY Grill is the creation of a guy named Mark,
a motorcycle enthusiast who loves to ride his Harley-Davidson!
The HIDEAWAY opened in August 0f 1998 and has become known World Wide.

If you are ever riding through Arizona
Mark would like to invite you to stop by The HIDEAWAY and check out
some of the most Amazing Show Quality and Road Warrior Bikes in the southwest.
The staff is second to none, We pride ourselves on Customer Service.
"There Are No Strangers Here, Just Friends You Haven't Met Yet"

Don't Get A Ticket
Contrary to what is being written on another website & newsletter
Cave Creek is Biker Friendly.

Carefree has the Noise Ordinance Cave Creek has No Noise Ordinance.
Eastside Bikers can avoid the majority of Carefree
where the Noise enforcement is happening.

If you are coming up Scottsdale or Pima Roads take either
Dynamite or Lone Mountain to Cave Creek Rd & head North.
There is a 3/4 mile stretch North of Carefree Hwy to 1/2 way up the hill that is
Carefree. Shift quick & watch your speed & you won't have any problem.
Happy Hour 10am - 6pm M - F
$2 Well, Wine & Domestic Beer
Free Pizza Buffet 3 - 6pm M-F

"Biker Friendly Bar!"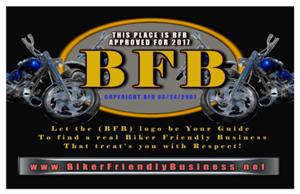 2017 BFB 5x7 Window Logo Posted!
Recommended By: Dragoni